Frantz company has offered an extensive line of bagged absorbents since the early '50's.

Our all-purpose floor absorbents economically keep floors clean, dry and safe.


Absorbents
We've offered an extensive line of bagged absorbents since the early '50's. Used to soak up liquids from water to oil, Frantz absorbents are available in a range of prices and absorption capacities.
---
Oil Zorb®
This all-purpose floor absorbent keeps floors clean, safe and dry.
With Oil-Zorb, you get:
High absorbency - despite its tremendous oil absorption capacity, Oil-Zorb retains its hard, granular shape ... even in heavy traffic, even when fully saturated. Oil-Zorb can be reused again and again until it's completely saturated.

Low dust levels - Powdery fines have been removed from Oil-Zorb so it's virtually dustless right from the bag.

Economy - Oil-Zorb cleans oily, greasy floors while it serves as a safe walking surface. And it's easy to spread and sweep up for reuse.

Safety - Non-combustible Oil-Zorb won't burn or smolder.

Minimal tracking - Oil-Zorb keeps oil and grease from being tracked into carpeted offices or other areas of the plant.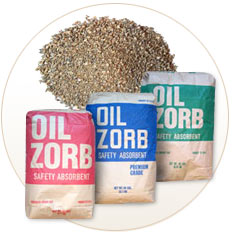 ---
Eagle Picher

Each 25-lbs. bag of Eagle Picher packs more absorptive power than 50 lbs. of competitive product. Porous diatamateous granules absorb spilled liquids much like a sponge. It's half as heavy as comparably packaged competitive products, easy to handle, and it won't "muddy up." Non-toxic, non-corrosive Eagle Picher is ideal for toxic waste solidification.
With Eagle Picher, you get:
Promotes safety by reducing slip hazards
Absorbs more liquid per pound
Environmentally friendly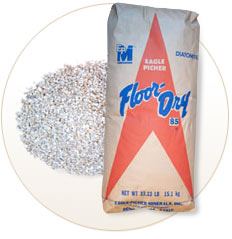 ---
Call
1-800-262-8700
or
contact
the Frantz Company with your questions.